Moving In Vancouver
We understand that for many people moving is a stressful experience. We do our best to make moving day an easy and hassle-free experience. As well, we pledge to provide careful, friendly, and efficient service on each and every job.
Disposal, Cleaning, Packing & Restoration Services
Disposal Services
We have vehicles dedicated to just disposal for those loads that aren't clean. Be sure to be clear on what it is that needs to be removed. It may be helpful to review the transfer station regulations and fees so you understand what needs to be separated and where the locations are.
To review the local regulations please click here.
For disposal we charge you based on the kind of vehicle you need, how many people you require, what it will cost to dispose of at the transfer station, how long the job will take and how far we need to travel.
We need to factor in traffic and how long the lineups are at the transfer station. This means that rush hour times will cost you more money.
We can give you general estimates over the phone however our crew leader/driver will give the final price in person if the disposal involves more then a few small items. We bill out at blanket fee of $155/ton for all kinds of material to be sure we don't lose money when we pay at the transfer station. All costs will be gone over and explained before the job starts. If you are not sure on weight and this concerns you you can come help the crew unload to be sure. We always strive to put in a good effort and to be fair to every customer.
For example. A 1 bedroom with elevator may take 2 hours to load into a 16-foot cube van with 2 people. Based on where you are located, we may charge a $100 travel/gas fee. It may be another 1.5 hours to get to the transfer station and unload. You would be billed 3.5 hours at $100/hr for labour- $100 for travel- and $155 for the estimated weight of 1000 kg plus a mattress and box spring at $15 each. The total would be $635 plus 5% GST.
If you don't have much stuff- a 3 seater couch, for instance, that you need 1 mover and the smaller 3/4 ton van- and you are not far from a transfer station you might be expected to pay $25 for weight, $50 for time and $50 for travel/fuel. The total would be $125 plus 5% GST.
If we think we can donate or recycle some goods then we will. However we always bill by weight for disposal of these items to be sure that our costs will be covered. Clean metal by itself is free to dispose of and we do not charge weight for this.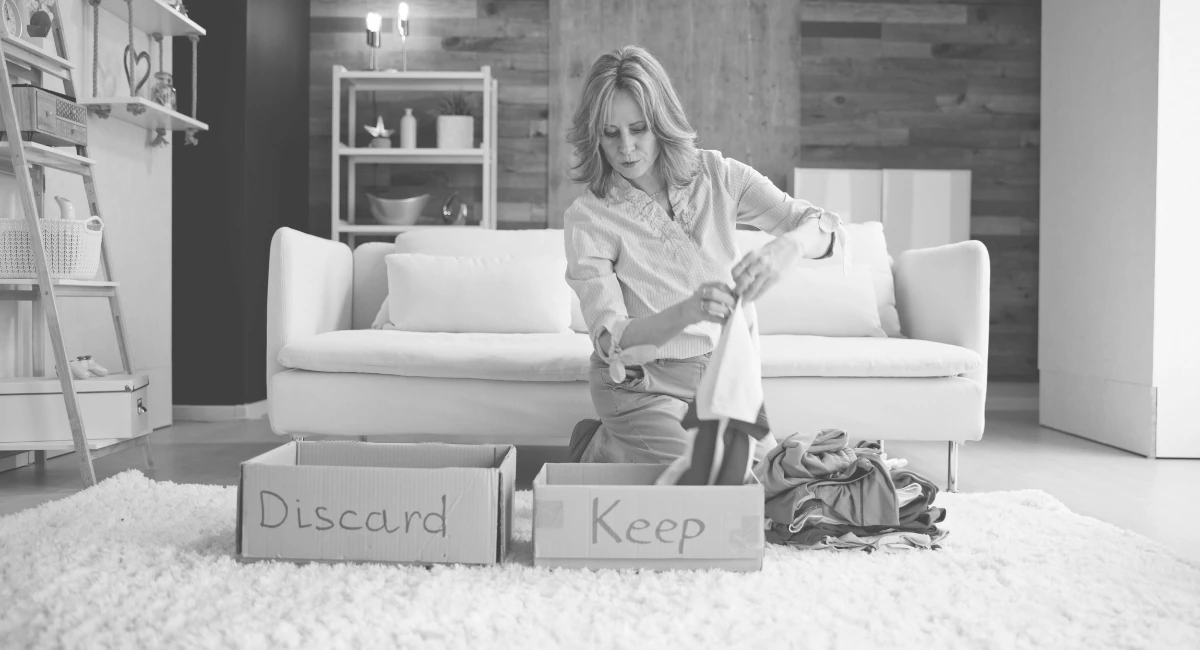 There are many reasons why an estate clean out may be done. In Vancouver, many people need to downsize when they are doing a move. As well there will be different circumstances where elderly family members need to be moved, or they pass on, and something needs to be done with what is left behind.
Deciding what should be kept, stored, donated or taken to the transfer station can be difficult. Some items will have sentimental value, and it's often a good idea to put some time into thinking about what you really want to keep.
We have a great deal of experience in dealing with estate clean outs and we understand being sensitive to how the client wants the items dealt with is what is most important.
This is the standard procedure we follow for an estate clear out.
We ask that everyone who is involved first go thru and take out what is personally important and valuable to them and what they wouldn't want anyone else to touch and possibly lose. Money, valuables and important papers are the main things.
Important items must be marked off when the initial walk thru is done. It is not always obvious what is important, and we don't want to risk sentimental or important items being thrown out or donated.
When the household items are separated into what will be kept, stored, donated, recycled or sent to the transfer station, it is often important that whoever is making the decisions on what is to be done give a final OK.
We have packers, packing material and cleaners available if the client wishes, or the client can do this part themselves if they wish to cut costs.
We have very good deals on heated secured storage, so if there are items you want to store, we can do this for you. However, we always asked the client to be sure that they want to keep their items for storage. Many people have lockers for many years and the cost of the storage begins to far exceed the value of the items stored. For some people, the sentimental value of the items is worth the costs, but it is always good to think on it before making the decision to keep certain items.
For small disposals, we take an estimate of weight and charge what we think we will be charged at the transfer station. Items that we are sure we can donate we won't charge weight fees on but if we are unsure if items can be donated we will charge the weight fee. For larger disposals, we will bring back or send a picture of the exact bill charged at the transfer station. We will also document the exact amount of time we had to spend donating and recycling items and bill for that time.
We ask that a final walk thru is done and the client is sure that everything has been dealt with to their satisfaction.
Cleaning/Packing Services
If you need help with cleaning, packing and/or packing supplies, we can also help here for quite reasonable rates.
Generally, when doing the move-out pack, there will need to be a basic cleaning of your items so they can be wrapped and not make the moving blankets dirty. The kind of material used for doing the pack will depend on the value of the items and how much care and time and padding materials you would like the packers to use. For example, often just blankets can be used to wrap pictures before they are boxed; however, if you don't want smudges or slight scuffs, then you should request that the packers bring bubble wrap to pre-wrap. The packers will have a good idea of how much care and time to put into the pack based on the items they are packing and will ask for your feedback on how you want the pack done.
There is always a need for a move-out clean as well. If you like, we can do a simple clean or a deeper clean if this is something you don't want to deal with yourself.
All valuable, fragile objects we would ask that the person you trust most– yourself– deal with personally. Money, jewelry and important documents must always be separated before the various workers come thru. Small, delicate, expensive items you should box yourself or explain to the workers that they need to put extra care into packing the items and have them separated so that you may transport them in your personal vehicle, or they can be well boxed and marked. Hence, the chance of damage is much less.
Restoration Packing and Cleaning
We have an experienced restoration cleaning and packing crew available for fire and flood damage and insurance claims. We have packers that are experienced in using the encircle app that is used for taking pictures and documenting in a more complete way when a tag and list aren't sufficient for storing and returning items. Rates are the same for this sort of pack and unpack but the time spent documenting and returning means more time must be spent on the job. A benefit of the documenting and picture taking is that items can be returned exactly as they were found and we can be certain if there was any damage done from moving and storing the items.
We have thick fully impermeable tarps that are laid down in the trucks when disposing of water and fire damaged items. All clean, non-damaged items we can store in 6'x7'x7′ vaults in a heated and secured warehouse or in individual lockers.
Do You Need More Information?
Moving Extra's You May Consider
Some people want a quick, no frills move to save time and money. If the furniture isn't too expensive then blanket wrapping in the truck is the fastest way to do a move. Nicer furniture may need to be blanket and shrink wrapped in the home. Furniture you don't want any dirt on at all you may want to use special furniture bags rather than just shrink wrap. These extra's take time and materials but may be the best decision if your furniture deserves special care.
A quick way to do a move is to have your movers deliver your items to a main accessible point and then the homeowner will deal with everything from there. Room stickers and colour coding and marking on boxes with markers can also be used to help you movers deliver all the items to their appropriate rooms. The movers can also do all your unpacking and setup if you like.
If the home is nice and the carpets are clean than you may wish to have the movers lay down blankets to set up a staging area and shoes can be taken off inside the home. Another option is to use neoprene floor runners. The fastest way is to ask the movers to brush off their shoes and do a clean afterwards.
The movers will have a general understanding of what should be done based on the condition of the items and the home. The most important part of the equation though is that you the client tell the movers what you want so you have the moving experience you wish to have.
We Serve the Greater Vancouver Area
Get in Touch
(778) 707-7571
Open Hours
9am - 8pm Everyday
Address
3020 East 2nd, Vancouver, BC